Carragher tells Maldini he 'stole' his Istanbul shirt
Jamie Carragher joked with Paolo Maldini as he revealed how he got hold of the ex-AC Milan defender's shirt after the 2005 Champions League final.
Maldini was pitchside at the San Siro ahead of his former side's semi-final clash with Inter Milan and spoke with Carragher along with Thierry Henry and Micah Richards in the CBS studio as they previewed the match.
Liverpool famously came from 3-0 down to lift a fifth European Cup at the expense of AC Milan in Istanbul 18 years ago, a final in which Maldini scored the opener after just 50 seconds.
Carragher took the opportunity to gently taunt the 54-year-old about the final, as well as disclosing that he managed to get his hands on the then AC Milan skipper's match work jersey.
"We played against each other in two Champions League finals, that was a huge honour for me being a defender who looked up to yourself and Franco Baresi," Carragher told Maldini.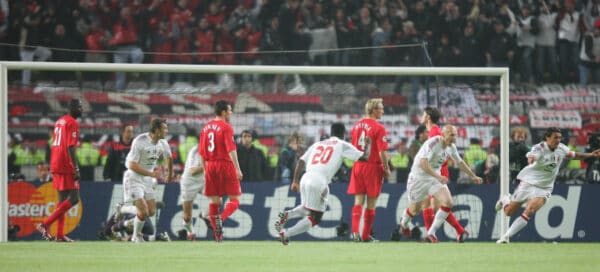 "But I just wanted to let you know that I have your shirt from the final in 2005. It is a huge honour for me to have that shirt, you don't want it back, no?"
Carragher's meeting with Maldini became one of the most iconic finals of all time and perhaps the greatest night in Liverpool's history.
Three goals in the space of six minutes saw the Reds come from behind to eventually win the contest via a penalty shootout, with Jerzy Dudek saving Andriy Shevchenko's decisive spot-kick.
Carragher went on to admit the manner in which he obtained the shirt, saying that the dejected AC Milan squad had left behind their possessions after the game.
"I have to tell the story of how I got the shirt, obviously it was a disappointing night for AC and all their players so they left all their medals, they left all their shirts in the dressing room," he continued.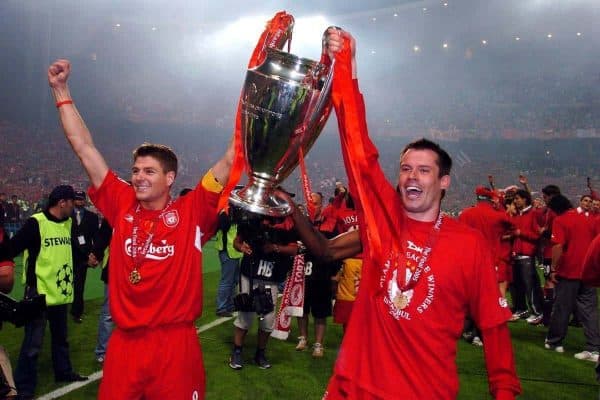 "So, the young players from Liverpool went in and took them – we have shirts and we have medals in Liverpool from 2005!"
It was an entertaining dialogue between Carragher and Maldini, who also contested the 2007 final against each other in Athens.
Maldini's side got the better of the Reds on that occasion, with a late Dirk Kuyt strike not enough to inspire a similar comeback to two years earlier.
Video Thierry Henry, Micah and Carragher get starstruck by Paolo Maldini 💕 | UCL on CBS Sports