De Bruyne's best long range Champions League goals
Few can strike a ball as cleanly as him.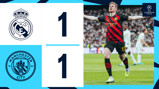 Match Highlights
Real Madrid 1-1 City: Champions League highlights

Kevin De Bruyne's eye for a long range strike matches his crossing and passing ability, making him one of the most complete midfielders in world football.
While the Belgian is more commonly associated with assisting those higher up the pitch, he tends to pop up with some incredible goals when it really matters in the Champions League.
He demonstrated exactly that last week against Real Madrid to earn us a 1-1 draw on the night in the Bernabeu.
Buy your De Bruyne No.17 shirt
The European champions will now be in Manchester this Wednesday, with the winner set to reach the Champions League final.
The outstanding moment in De Bruyne's first season came when he hit the winner in our UEFA Champions League quarter-final defeat of Paris Saint-Germain.
He then hit a dipping free-kick against Barcelona the following season and a curler into the top corner against Shakhtar Donetsk in the following campaign.
Completing his portfolio of incredible long range goals is a left-footed piledriver against Borussia Monchengladbach in 2020/21 and a memorable finish against RB Leipzig earlier this season before last week's finish.
Which is your favourite?
Watch the video and vote for the best goal below…
CITYZENS: SIMPLE POLL – Which is your favourite De Bruyne long range Champions League goal?
Video Five Kevin De Bruyne Wonderstrikes? | TOP 5 KDB CL GOALS!