Diogo Jota exclusive:
Diogo Jota is eyeing a Premier League title challenge in 2023-24 – as Liverpool bid to bounce back after a disappointing season.
The Reds finished second with 92 points in 2021-22, only missing out on the title to Manchester City on the final day, as they came close to a historic quadruple.
But they dropped to fifth in 2022-23 – Jota missed a significant part of the campaign, after injury problems that started even before pre-season, and wants to help Liverpool challenge for top spot again next time around.
"Yes, I hope so," he told FFT. "In the last few years, we have always been there – three seasons with over 90 points, which is incredible. Not to win the league with so many points is even more incredible. So, I think our target needs to be that: to do better than the season we've just had, for sure, and be fighting for titles.
"You always need to refresh the squad with new players. That's what we've done, and if we stick together for a long time, things will get better. In the season we've just had, we weren't there – it's the truth – but hopefully that was hitting the bottom and we can bounce back and try to fight for titles again."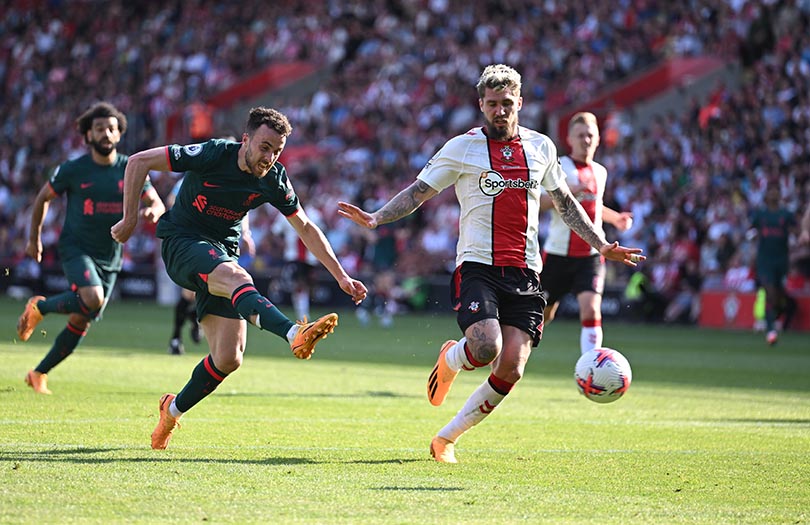 Jota is aiming for an injury-free campaign and a return to his goal tally in 2021-22, when he struck 21 times to earn a new contract at the club. "I hope that I can score that number or more," he said. "The season before last was very successful – almost the most successful ever in English football – and for me it was great as well.
"I was so happy that Liverpool offered me a new deal and I could commit myself to the club for a long period of time.
"I know they trust me and that's important: to know that you're in a stable place, with people who give you the confidence to go out on to the pitch and produce excellent performances. This summer, I want to get through a proper pre-season, then hopefully have a great season."
Read the full interview with Jota in the new issue of FourFourTwo, in shops from Thursday, June 22.
Jota wears the new adidas X Speedportal boots, part of the Heatspawn Pack, which also includes the Predator and Copa boots, available to buy now at adidas.co.uk/heatspawn_pack
Video Diogo Jota wins it for Liverpool at the death v. Spurs | Premier League | NBC Sports