FSG, Entitled LFC Fans and a Performative Fanbase
On 9 April 2018, on the eve of Liverpool's second leg Champions League quarter-final against Manchester City, Jurgen Klopp stood in a room at Manchester City's Etihad Campus after concluding with a presser. 
He surveyed City's training complex from a window, and he was clearly impressed by the rows of pitches in front of him. According to Daniel Taylor of The Guardian, Klopp said "Wow! Very big, very good," with an unmistakable envy in his voice.
Why wouldn't he? Liverpool's training ground at the time, the legendary Melwood, had three pitches. Etihad Campus had 16 pitches, along with an assortment of world-class amenities. The last time a major upgrade was done in Melwood was in 1959. That too only after Bill Shankly said the place looked like it had been bombed.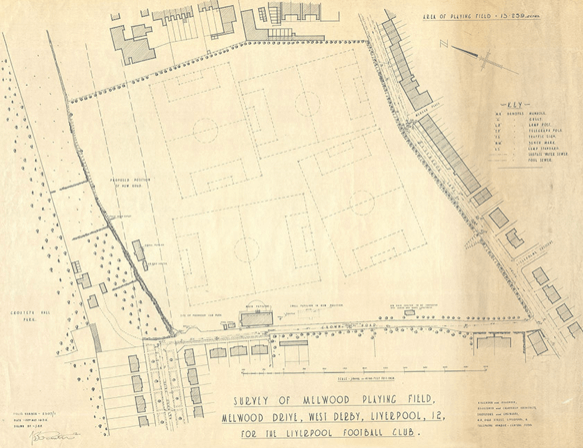 The plan to redevelop Melwood after Liverpool purchased the field from St Francis Xavier's College in 1952. Trivia: Melwood is an acronym for Father Melling and Father Woodlock, the two Catholic priests who coached pupils from the school on the field. Image courtesy of Liverpool Football Club.
As late as 2015, fans, journos and even rivals could just sit outside certain sections of Melwood and watch the lads train. Brendan Rodgers became so exasperated with the situation, the club eventually had to install a mesh "privacy wall" to shield our tactical sessions from the public. It was so ludicrous. The thought of a multi-billion-pound organisation using a mesh wall seemed so surreal, like something out of a Naked Gun scene.
It wasn't just the Etihad Campus. The majority of top clubs in Europe had world-class training facilities. Ciudad Real Madrid feels like a hotel. AC Milan's Milanello literally had a lake inside it. A lake! Leicester City's Training Centre had a nine-hole golf course. Meanwhile, Melwood was so small, our youth and academy players couldn't even train with the seniors.
The neglect of Melwood and our training facility was symptomatic of the decades of infrastructural neglect that Liverpool suffered under the Moores family and subsequently, Hicks and Gillette. We had the best managers, the best players and even the best fans, but our facilities were in dire need of investments. 
And as the years went by, our neglected infrastructure began to take its toll on team performance. In 2011, Dr Zaf Iqbal, our former team doctor, said that he was shocked at the standard of our medical facility. We were spending every penny we had, and more, on player transfers and wages. We seemingly forgot about strengthening our infrastructure and fundamentals. We even disregarded the need to expand our commercial reach. This neglect was one of the primary reasons why Manchester United managed to pull ahead of us in the 1990s and started to dominate English football.
We were one of the biggest football clubs in the world, but organisationally, we were in absolute shambles. Former CEO Rick Parry once shared a comically sad anecdote relating to the final days of the Moores ownership. David Moores realized he lacked the funds to compete with the financial might of Manchester United, Arsenal and the Roman Abrahamovic-funded Chelsea. So, they went hunting for potential buyers.
After a few false starts, they finally found a buyer – the Dubai International Capital (DIC). DIC said all the right things, and even agreed to fund the development of a new stadium. But they strung Mr Moores and Mr Parry along for more than a year.
We don't know what went on behind the scenes, but circa 2007, Liverpool apparently ordered steel for the new stadium. The Stanley Park project may have been further along than we thought. But when the £12 million bill arrived, we couldn't afford to pay. We have reached a new level of pathetic. 
So, Mr Parry chased after DIC to help with the payment. They suddenly got "offended" at being pressured, and pulled out of the deal. A few months later, Tom Hicks and George Gillett took over Liverpool through a deceptive leveraged buyout. The rest, as we know, is history. But it bears reminding that under H&G, we were literally less than a day away from being sent into administration and possibly relegated. 
Why am I bringing all this up?
Over the last several years, under FSG, Liverpool have replaced the pitch at Anfield with a 95% hybrid carpet pitch, replete with an underground heating and plumbing system. Under FSG, Liverpool spent £114 million for the Anfield Main Stand expansion – the first major upgrade on Anfield in six decades! Thereafter, Liverpool spent another £80m for the Annie Road expansion. Liverpool also spent a pretty penny on the new superstore.
Under FSG, Liverpool also spent £50 million on The Academy, Kirkby, more popularly known as the AXA Training Centre. Liverpool now own a world-class training facility of their own. We have more pitches than Etihad Campus, along with state-of-the-art training, treatment, physiotherapy and rehab facilities. The youth and academy boys are also training in the same place as the seniors now. Mr Klopp will never have to feel envious ever again.
Why does this matter?
A few weeks ago, when news emerged that Liverpool have pulled out of the Jude Bellingham deal due to Borussia Dortmund's excessive demand, a significant portion of the fan base went into apoplectic fit. Never mind that the coordinated leak was probably a bargaining strategy, our fans were frothing at the mouth. 
The social media and comment sections of every website were filled with rants from irate Reds. It was stunning to behold – FSG were "parasites", they should "expletive-off", they were not supporting Klopp, John Henry was siphoning money away from the club, etc. 
Some well-reasoned responses from a few articulate fans also accused FSG of sabotaging the club by refusing to sanction midfield transfers during the winter window – nevermind that LFC-linked journos said Klopp was the one who declined to accept alternative midfield options and instead greenlighted the signing of Cody Gakpo (pressing from the front, the argument went). Linda Pizutti was also became a target for a few fans.
The anger was so palpable. It was a virulent display of performative fandom. 
The club's infrastructure spending over the last four years totals up to over £250 million. If FSG just wanted to be popular with the fanbase, they could've just spent the £250 million on player transfers. They could've even accepted Dortmund's outrageous opening valuation of Bellingham instantly, negotiations be darned, and agreed to Bellingham's reported wage demand of £350k per week. 
But FSG chose to behave like responsible stewards of the club. Unlike the Glazers, they have never taken a single penny out of the club (in 2021/22 alone, the Glazers paid themselves a hefty £33.6 million in dividends). Every penny earned goes back to the club. They have focused on strengthening every aspect of Liverpool, be it on the playing field, infrastructurally or commercially. One could argue that FSG are doing that to increase the value of their investment, but so what? We are the ultimate beneficiary of them behaving responsibly.
Speaking of the commercial aspect of the club, Liverpool's revenue is now larger than Manchester United's. Please take a moment to absorb that. We have overtaken United, which used to be the richest football club on the planet. 
At £594 million, Liverpool now have the third-highest revenue of any football club in the world. To put that figure into perspective, Liverpool shareholder LeBron James'  L.A. Lakers only generated 63% of our revenue. If we ignore City's cooked books, we actually have the second-highest revenue in world football, just a meagre €12.1 million behind Real Madrid. Let that sink in for a second.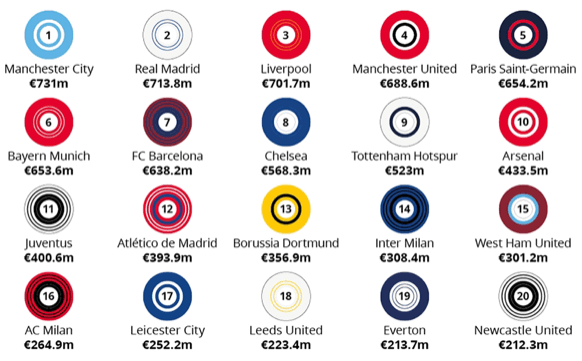 Image courtesy of Deloitte UK
Within a year or two, there is every possibility that we will overtake Real Madrid and generate the largest revenue in football. With negligible external debt and freed from the shackles of infrastructure spending, what a financial juggernaut we will become then. 
We are a club from a small port city with a passionate fan base. Logically, we shouldn't be the third-richest football club in the world. We have no business competing with richer clubs from major cities like London or Paris. We are not getting free land from the City Council of Madrid. The massive domestic industrial base of Bavaria unfortunately won't provide us with automatic annual sponsorships. The City of London won't be handing out free stadiums to us.
And yet, we are the most successful club in England, and arguably the third most successful in Europe. How did we achieve that? Look at our history. We have always been the club of the working-class men and women of the land. We stood tall as a symbol during the Thatcher years, a beacon of benign socialism and justice. We never had dodgy benefactors, despotic monarchies or corrupt oligarchs as sugar daddies. Everything we did, everything we achieved, was through grit, pride and determination. 
As icing on the cake, we also have a beautiful, well-maintained 61,000-seater stadium, as well as a world-class training centre that has plenty of room for expansion. Meanwhile, our greatest rivals have a stadium with leaking roofs, flooding toilets and faded paint on the walls. 
FSG are not above criticisms. Lord knows they have made mistakes. But do it without turning into an entitled fan, one who is only interested in winning the transfer window trophy whilst ignoring context and reality. Criticize them while also acknowledging the tremendous job they have done thus far. 
We want Liverpool to succeed on the field. We want to watch the lads lift trophy after trophies. However, we also want Liverpool to be run sustainably and continue to be a footballing titan a hundred years from now. Right?
Song of the Day: The Might Wah, Heart As Big As Liverpool 
Video