Has new LFC system put Robertson's place under threat?
Andy Robertson never quite found his groove in the 2022/23 season, and for the first time, there could be doubts over his long-term worth.
Since the Scot arrived at Anfield back in 2017, few players have been more consistent and reliable, even if others have earned more column inches and Man of the Match awards.
Robertson went into this new season as a key man for Liverpool, but by the end of it, things arguably had a slightly different feel.
Andy Robertson, 2022/23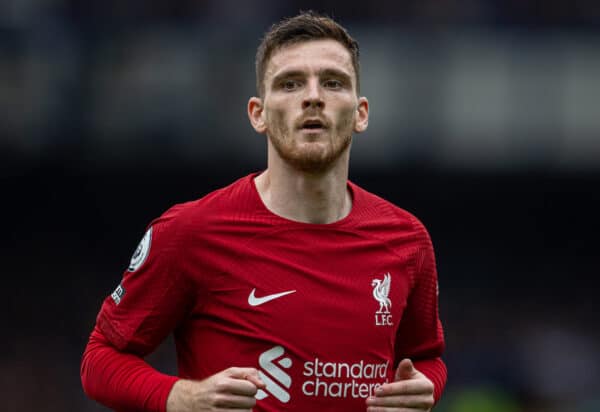 Started: 37 (All competitions)
On as a substitute: 6
Unused sub: 3
Goals: 0
Assists: 11
Overall Season Rating: 6
Robbo far from his swashbuckling best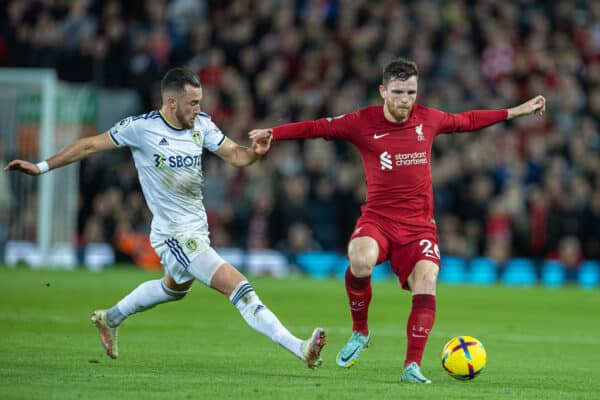 Robertson has been remarkably reliable for so long, so even when he dips slightly below his best level, it comes as a surprise.
In his first five years as a Liverpool player, it was a shock to see him drop below a six out of 10, and he has rightly been regarded as one of Europe's premier left-backs.
What we saw in 2022/23 was a player failing to hit previous heights, however – albeit in a team struggling badly, and with numerous other individuals more culpable.
Robertson's drop-off certainly wasn't spectacular, though, and there were times when he felt like one of the least culpable.
While fellow full-back Trent Alexander-Arnold suffered badly, Virgil van Dijk looked vulnerable for the first time and midfielders looked past their best, the 29-year-old was steady in comparison.
But he is still held to a world-class standard, so it is only natural to accept that he has also been disappointing in his own right.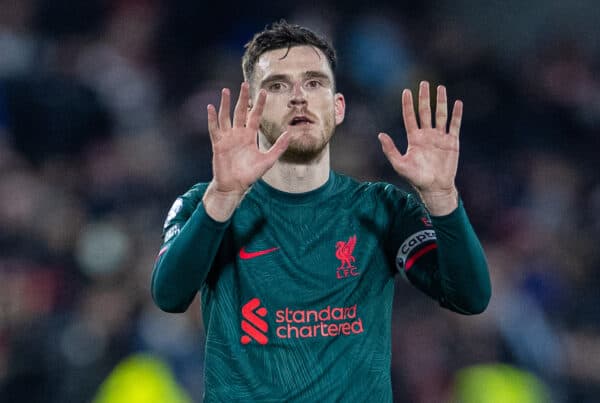 In an attacking sense, Robertson's finishing as ever left a lot to be desired – and it's seemingly getting worse by the season.
He didn't score a single goal across 43 appearances in all competitions, which, while far from his primary attribute, still outlines some shortcomings in that area.
A tally of 11 assists was his second-poorest over the last five seasons, although 11 big chances created was a higher total than last season's nine and the same as in 2020/21.
Defensively, Robertson has generally been rock-solid until this season, but this area of his game did start to show signs of creaking, too.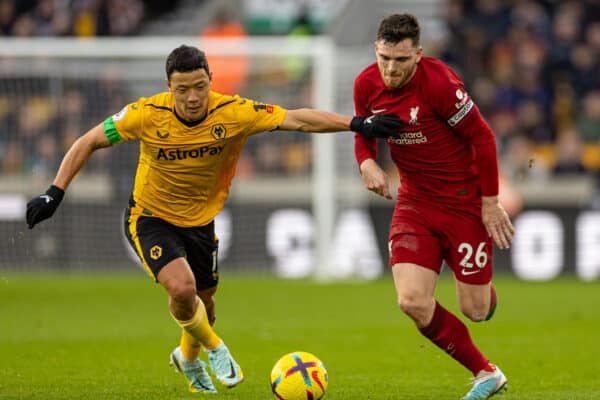 His 55 percent tackle success rate was his joint-lowest ever for Liverpool – it hasn't been lower since 2017/18, and he was guilty of switching off on occasions.
An error in a mid-season friendly against Lyon was even described as "not cool" by Jurgen Klopp.
Liverpool's season was almost cut into two sections, with a big tactical change made in April, and this is where Robertson's role suddenly changed.
Tweak in role proves to be a challenge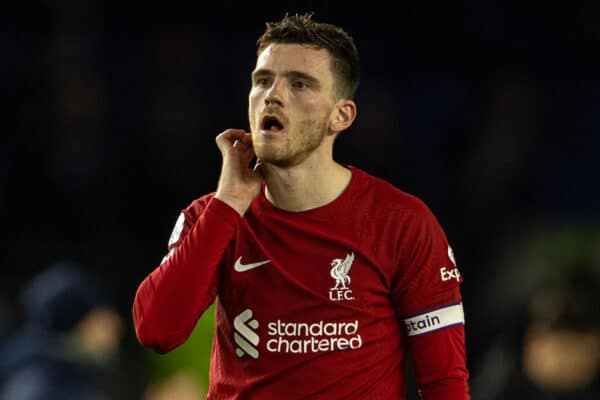 Klopp's decision to turn Alexander-Arnold into a right-back who roams into midfield has had an impact on so many players, such is the magnitude of the alteration.
The Englishman's new job is to run matches in the middle of the park in possession, and therefore vacate his right-back position, meaning the rest of the defence is asked to do more.
Ibrahima Konate didn't look entirely comfortable with having to shift across and almost cover two positions at times, and the same could be said for Robertson.
From being the most out-and-out of modern left-backs, he was suddenly tasked with coming in more centrally when needed, ensuring the gap between himself, Van Dijk and Konate wasn't too big.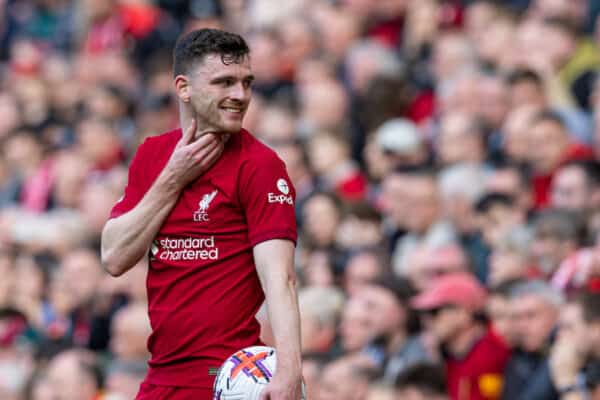 Put bluntly, he looked like a fish out of water early on, and while Liverpool's results were positive, his performances weren't always better than they had been pre-April.
It is only natural that there have been teething issues, such is the complex nature of the tactical change, and Klopp has backed him to thrive as a "very experienced player, a very smart player [who] knows when we need him there."
Essentially, it is a big test of the defender's intelligence and ability to adapt, at a point in his career when he has many miles in his legs.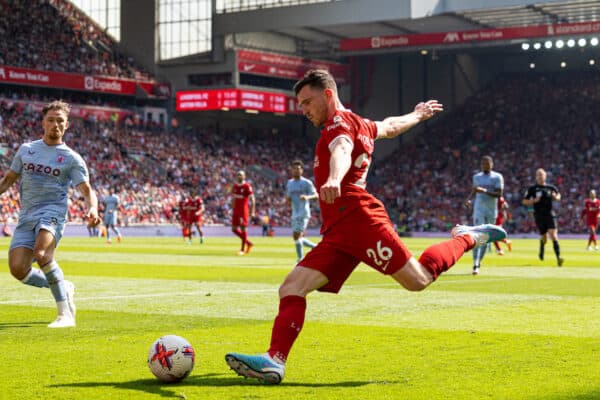 Robertson is clearly bullish about adapting, saying that "whatever system we play next season or if we have a couple of systems we can play then it's about finding yourself within that and bringing the best out of you."
Driving forward a little less than before could even benefit him.
But with Liverpool expected to maintain this system next season, Robertson arguably finds himself in his most precarious position yet in a Reds shirt.
What next?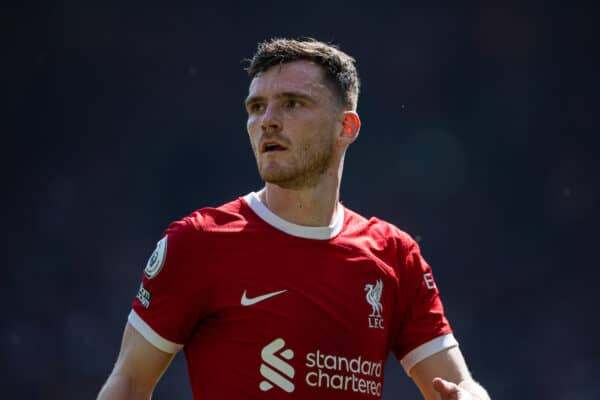 Liverpool have recklessly allowed their squad to age together in recent years, not bringing in enough reinforcements and finding it costly.
Robertson is now one of the most senior players at Anfield, having arrived as a fresh-faced 23-year-old, with his 30th birthday looming next spring.
While any talk surrounding him leaving is wide of the mark, there is an argument to say that a top-class signing who is superior to Kostas Tsimikas could put him under serious pressure as a regular starter.
There is no question that Robertson's all-round game wasn't as potent as it used to be in 2022/23, and while he could easily return refreshed and as good as before, it is far from a guarantee.
Given Klopp's new system, there continues to be talk of Liverpool signing a left-footed and left-sided centre-back – someone who could oust Robertson in the starting lineup in the long term.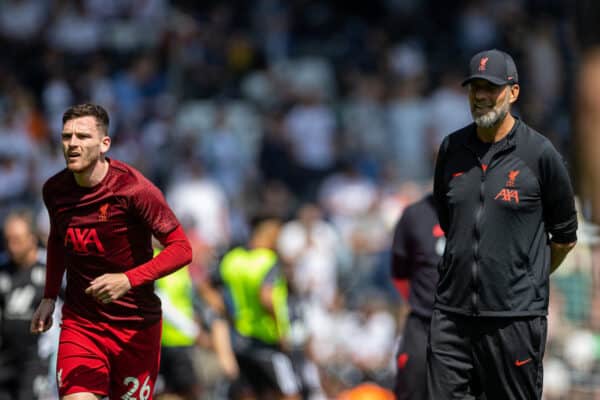 The likes of Wolfsburg speedster Micky van de Ven and the highly rated pair of Goncalo Inacio at Sporting CP and Levi Colwill at Chelsea have been linked with summer moves, which is a sign that the manager is looking at an alternative.
Bringing one of these in would make sense, providing more balance to the back line, and Robertson would surely treat the competition in the healthiest way possible.
A 'poor' season for Robertson is still an adequate one for most players – it was a year that still saw him become the highest assist-making defender in Premier League history – but here's hoping we see him back to his best in 2023/24.
---
Best moment: An assist for Cody Gakpo in the 7-0 win over Man United.
Worst moment: Being on the receiving end of an elbow from assistant referee Constantine Hatzidakis!
Role next season: Key player, but improvements needed in new role.
Video SHOCKING! Is Jurgen Klopp DROPPING Robertson for a New Left-Back? Liverpool Fans FURIOUS!