Man City toss Real Madrid aside like FA Cup part-timers on defining Champions League night
All the fevered predictions, all the aching promise that Pep Guardiola's Manchester City would eventually prove themselves the planet's peerless football team seemed to culminate in a night for the ages at the Etihad Stadium.

Published 17th May 2023, 22:33 BST
Updated 17th May 2023, 22:41 BST
And they didn't just slay demons in dispensing with the game's ultimate aristocrat Real Madrid; their 4-0 triumph for a 5-1 semi-final aggregate success setting up a Champions League decider in Istanbul against Internazionale next month. To move them the mightiest step closer to claiming their Holy Grail as the shinniest bauble of the trio. However fate-tempting it might seem, Guardiola's men now appearing unstoppable in their quest for an historic treble.
Carlo Ancelotti's team have been the immovable object for English clubs these past two seasons in the continent's blue riband tournament. City, though, tossed them aside as if they were utter no marks. Real, rightly, have been ascribed mythical powers within the domain of the competition. Little wonder with their capacity for derring-do unrivalled – in common with their ability to snare the hulking jug-eared trophy that they have hoovered up a record 14 times, five of these in past nine years alone. A full 14 more than City, of course, whose oil money decade-and-a-half dominance in their own game had, in such weird and whacky ways, consistently failed to produce the craved wellspring in the Champion League arena.
This campaign, and these current gladiators of their emperor Guardiola, look set to change that judging by how they put Madrid to the sword in such ruthless and rip-roaring fashion. The purity, purpose and piercing nature of their football made for a lop-sided contest that will be monumentally embarrassing to their vanquished opponents. From the earliest minutes, this was a classic mis-match. As if a FA Cup tie when City were toying with part-timers. Madrid, the kings of the continent, were left in the altogether as the home side shuttled the ball around as if it belonged to them. On the evening, it truly did. Only an outrageous one-hand stop from Thibaut Courtois to block a header from Erling Haaland initially thwarted them. Their taking apart of Madrid captured in the fact Ancelotti's men completed a paltry 13 passes in the entirety of the first 15 minutes. The opener duly arrived six minutes later, and the Madrid players were left like spinning tops as City's criss-crossing passing involving Kevin de Bruyne and John Stones to create a Toblerone-factory of triangles ended with Bernardo Silva being played in on the right of the box before nipping forward and slamming in. A deft cushioned header after the ball and bounced up to him from a deflected shot allowed the little Spaniard to make it 2-0 in 37 minutes. And with the old – and golden – stagers of Luka Modric, Toni Kroos and Karim Benzema suddenly seeming overcome by their footballing mortality, it then became a case of how badly Madrid would be mauled.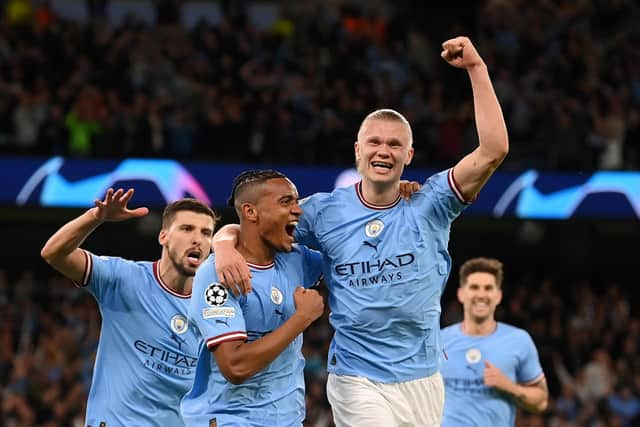 As it transpired, horribly so in the terms of the final scoreline. Even after Haaland, the 52-goal wunderkind, had passed up an opportunity to make it three early in the second period in hitting the bar with the goal appearing at his mercy. Before then there was the slightest twitch from the Madrid corpse, with a Kroos piledriver tickled on to the bar by Ederson but it would have been unjust if the visitors had avoided the going-over in goal count that they were handed in open play. And the finishing touches and one of the most jaw-dropping filletings came in the form of a Manuel Akanji header deflecting in off Eder Militao 75 minutes in before Julian Alvarez finished off a sweeping move in added time. A masterclass to outclass the masters.
Video