Scamacca finished at West Ham? – West Ham News:
Scamacca finished at West Ham?
I have believed for some time that Gianluca Scamacca was finished at West Ham, but last night was probably the final confirmation.
As West Ham fought from behind to beat Alkmaar in the Europa Conference semi-final, Scamacca was nowhere to be seen.
Clearly it wasn't an aversion to European competition that saw the Hammers £35M striker miss the festivities at the London Stadium. Reportedly Scamacca did attend Roma v Bayer Leverkusen in the Europa League, with Jose Mourinho's side getting a 1-0 win.
The Italian striker had been pictured by numerous media outlets, who confirmed the former AS Roma player attended the game.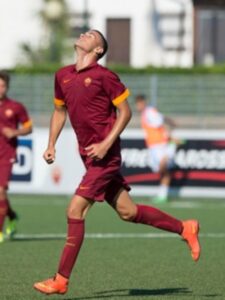 Is Scamacca finished at West Ham?
Whilst I'm sure injury will be used as mitigation. I find it pretty poor form considering how important West Ham's game was. Surely Scamacca should have been at the London Stadium to cheer on his team-mates rather than attend a different game?
If any further confirmation were needed that the strikers heart resides elsewhere this was it. There have been numerous rumours of homesickness and unhappiness with tactics this season, so this is not a huge surprise.
I believe Scamacca to be a hugely talented footballer, but he is blatantly unsuited to David Moyes tactics. Whoever authorised the transfer (be it Sullivan, Moyes or Newman) got it very wrong indeed.
Scamacca played in a partnership at former club Sassuolo, so why he was signed to play as a lone striker is anyone's guess. He lacks the pace to effectively run behind defences and the dribbling skills to operate in wide areas.
He is an excellent striker with good movement inside the box, excellent hold-up play and a thunderbolt shot. David Moyes requires a more mobile striker for his system to work and I suspect Scamacca knows it.
Video Is it all over For Scamacca at West Ham? | Moyes prefers Ings, Antonio and Cornet ahead of £35M man