Stopping Haaland 'difficult' says Guardiola    
Pep Guardiola says stopping Erling Haaland is, at best, *difficult".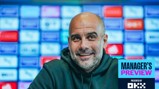 Men's Team
Guardiola: City must focus on what we have to do against Arsenal

The boss, speaking ahead of City's top-of-the-table clash with Arsenal was asked how he would advise others of the best methods to stop his star striker.
Not surprisingly, he didn't reveal a way of keeping the 48-goal scoring machine quiet, suggesting the only way was the opposition keeping the ball!
"What he has shown in his career, not just here, it would be difficult," said Guardiola.
"But to be a team, to be as athletic as possible.
"When we played against him when he was at Borussia Dortmund, (the best way was) to have 70/80 percent of the ball, so he's not involved as much as possible.
"If you have the ball you have more chances, but the game we will play tomorrow will be a lot of transitions and duels.
"They (Arsenal) plan to play an aggressive game, almost man to man all around the pitch, that's why the only man free is the keeper.
"The way you do the press is difficult."
On Haaland's first 10 months as a City player, Guardiola was effusive with his praise for the Norwegian.
"I said many times, exceptional," he said.
"Exceptional. We are really impressed with his behaviour, his mood, and the way he lives his life, his love for football, it's exceptional."
City v Arsenal: App coverage
As always, the official Man City app will provide comprehensive coverage of our latest Premier League fixture.
Live updates will get under way at 18:00 (UK) on our Matchday Centre, with stats, analysis and commentary available across the evening.
Our Matchday Live programme will begin at 18:40 (UK) and presenter Cel Spellman will welcome Paul Dickov, Kolo Toure and Steven McInerney to the studio.
DOWNLOAD THE OFFICIAL MAN CITY APP
The guests will also answer viewer questions throughout the broadcast. To get in touch, send a Whatsapp to: +447537186538.
Once the game gets under way, Alistair Mann and Andy Morrison will call the action from the Etihad Stadium with live audio commentary.
But the coverage continues after the final whistle – we'll have post-match reaction from Guardiola and his players available shortly after the final whistle.
Match highlights can be accessed from midnight (UK) on Wednesday night and you can watch a Full Match Replay on CITY+ and Recast from the same time.
Video How would Pep Guardiola stop Erling Haaland? 😂 #shorts